Career path after graduation
Annually, about 50 students complete a master's course and about 10 complete a doctoral course. About 20% of master's course graduates advance to a doctoral course, while others find employment with institutions and companies in a wide range of industries.
Employment record by type of industry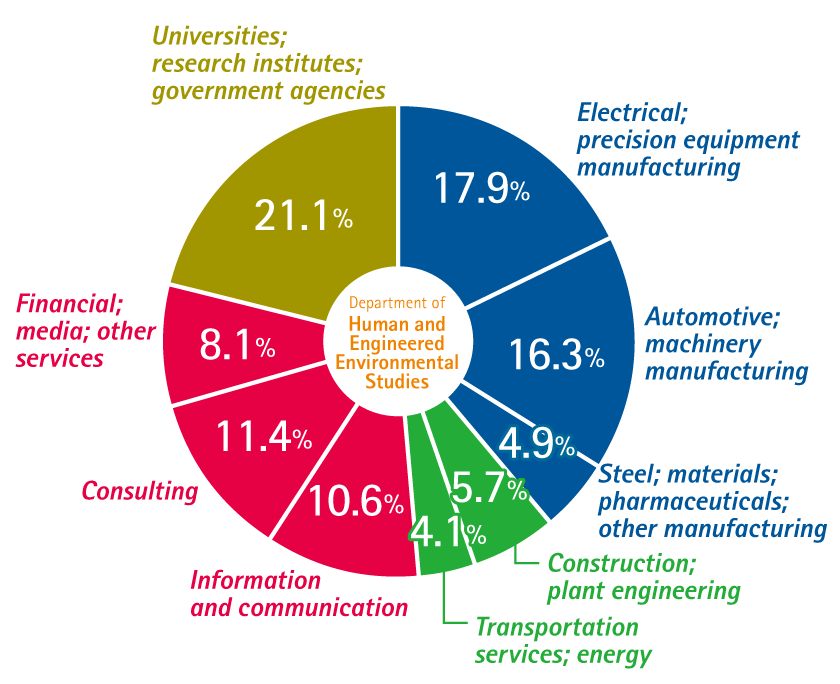 Examples of employment in recent years
【Electrical; precision equipment manufacturing】

Sony, Hitachi, Toshiba, Mitsubishi Electric, Olympus, Fujitsu, FANUC Yaskawa Electric, Panasonic, Huawei, Canon, キーエンス, etc.

【Automotive; machinery manufacturing】

Toyota Motor, 日産自動車, Denso, Honda R&D, Suzuki, NTN, Mitsubishi Heavy Industries, Daikin Industries, IHI, Yamazaki Mazak, Hitachi-Johnson Controls Air Conditioning, etc.

【Steel; materials; pharmaceuticals; other manufacturing】

JFE Steel, Nippon Steel, Toray Industries, KOSE, TOTO, Rengo, Hirohama, Sumitomo Electric Industries, Canon Medical Systems, etc.

【Construction; plant engineering】

Obayashi, JGC Japan, Chiyoda, INPEX, Komatsu, Mitsubishi Chemical, etc.

【Transportation services; energy】

JR Central, JR Freight, JAL, Central Research Institute of Electric Power Industry, Kyushu Electric Power, Tohoku Electric Power, Chugoku Electric Power, J-POWER, etc.

【Information and communication】

NTT, NTT Data, NTT Facilities, Softbank, Yahoo Japan, IBM Japan, KDDI, DeNA, etc.

【Consulting】

Nomura Research Institute, Mizuho Information & Research Institute , Accenture, Simplex Inc., KPMG Consulting, Simon Kucher & Partner, Roland Berger, Pactera Consulting Japan, etc.

【Financial; media; other services】

Nippon Life Insurance, Mizuho Bank, Morgan Stanley MUFG Securities, Daiwa Securities, NHK, Asahi Shimbun, Recruit Holdings, Konami Amusement, etc.

【Universities; research institutes; government agencies】

University of Tokyo, Osaka University, National Institute of Advanced Industrial Science and Technology, Ministry of Economy, Trade and Industry, Acquisition, Technology & Logistics Agency, Japan Ground Self-Defense Force, Department of Industrial Promotion, The Ministry of Industry (Government of Thailand), etc.